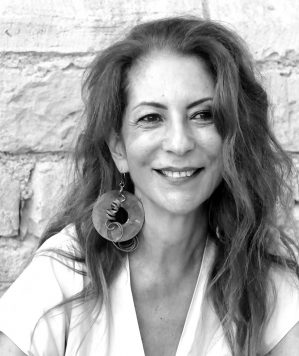 photo: Kyriakos A Andreou (c)
Antigoni Solomonidou Droussiotou is an award-winning photographer – journalist.
She was born in Limassol, Cyprus. She took the first steps on her photographic career alongside world-renowned photographer George Rodger, one of the founders of Magnum Agency. Soon afterwards, she attended "Documentary Photography" at Gwent College of Higher Education in Newport, Wales, under the guidance of celebrated Magnum Agency photographer David Hurn. Guided by the inner need for communication, she began her creative journey in 1977, mostly with black and white photographs. Her motto has always been "Capturing emotions; my task in life".
She has presented her photographic work in many solo exhibitions in Cyprus [Limassol 1978, 1992, 1996, 2004 | Nicosia 1986, 1997 | Ayia Napa 1998 | Deryneia 2005] and abroad [Geneva 1979 | Athens 1989 | London 1989 | Berlin 1992 | Patras 2006 | Brussels: European Commission (Berlaymont Presidents' Gallery) and the European Council (Lex Building) 2012 | New York at the United Nations (United Nation's Secretarial Lobby) 2013 | Washington (United States Capitol) 2014 | London (London School of Economics for the twenty years of the Hellenic Observatory) 2016].
She participated in many group exhibitions and events, including international biennials, representing Cyprus: Biennale of Young Mediterranean Artists in Thessaloniki (1986) | International Photography Month in Athens (1989), "Greek Festival in London" at Queen Elisabeth Hall, London (1989), "Women, Creators of Two Seas", Cultural Capital '97, Thessaloniki (1997), First International Forum for a Culture of Peace by Mediterranean Women, Rhodes (2000).
She was presented with four prestigious international awards: Gold Medal at the Third Commonwealth Photography Exhibition in Hong Kong (1983) | Silver Medal at the Fourth Commonwealth Photography Exhibition in Edinburgh (1986) | Commonwealth Photographic Award (1987) | Woman of the Year in Creator MF Awards 2022, "Limassol Photography Festival" 2023.
During her artistic career, she has published four photo books: Seasons in Limassol, Leosun, Limassol 1990 | Eκ βαθέων/De Profundis, Photo Anthology, Laiki Bank Cultural Centre, Nicosia 1997 | Κόντρα στο τείχος/Against the Wall, AKEL Cultural Office, Nicosia 2002, LoCKdown DAyS, To Rodakio, Athens 2020. In addition, she is the author of the book Η ζωή μου σε πρώτο πρόσωπο/My Life: First Person Narrative, containing historical interviews with leading personalities of Cyprus, Livanis Publications, Athens 2004.
Her works are to be found in private collections around the world, as well as in the Permanent Representation of the Republic of Cyprus to the EU in Brussels.